It has been an exciting summer for Air Bear, especially for our two demonstration pilots, Air Bear's Director of Law Enforcement Operations, John Nielsen and Air Bear's Chief Multi-Engine Instructor, Rich Bookbinder.
Accepting the aircraft in late June at Diamond's London Ontario facilities, Nielsen and Air Bear's integration partner, Steve Pierce of Rapid Imaging Solutions conducted demonstrations for local law enforcement agencies as well as participated in an air-to-air photo shoot with Skies Magazine. Featured on the cover, Skies did a very nice job relating the capabilities of the MPP in their August/September issue. It may be viewed online here.
With expert assistance from DAI's London personnel, John and Steve quickly cleared Customs in Michigan and proceeded to conduct flight demonstrations to local and state agencies, aerial survey, pipeline & powerline operator's, and fire mapping/suppression concerns across the northern tier of the United States.
Landing in Sacramento, CA prior to the APSCON show, many additional law enforcement agencies and commercial operators were introduced to the first DA62 MPP to reach the United States. The responses we're receiving are unilaterally positive, with comments such as:
Incredibly easy to fly
Fuel consumption is unbelievably low
Direct Operating Costs can't be beat
This is the future of Airborne Law Enforcement
This is our next fleet aircraft (from a Federal Law Enforcement Agency)
A joy to fly
Low fuel consumption along with the Piston Power program make this the most capable and affordable aircraft for the mission.
And more…come see for yourself!
Following the Northern California visit, Air Bear brought the aircraft into its booth at the Reno APSCON show. It was indeed the hit of the show, introducing many who had no idea what the state of the art in Airborne Law Enforcement has progressed to. Several additional tour stops were added as a result of the show, which Air Bear resumed tour operations immediately following the conclusion of APSCON.
Extensive demo operations then were conducted to many agencies in Southern California, then working our way through Arizona and Colorado we continued to receive rave reviews wherever we stopped. With a demo in Ft. Worth, a major federal agency was overwhelmed at the capabilities the DA62 MPP provides.
Picking our way through several lines of thunderstorms on the way to Louisiana and then again while continuing on to Nashville, the MPP proved its mettle as an IFR aircraft. The Garmin weather radar worked to perfection, guiding us around major buildups quickly and safely.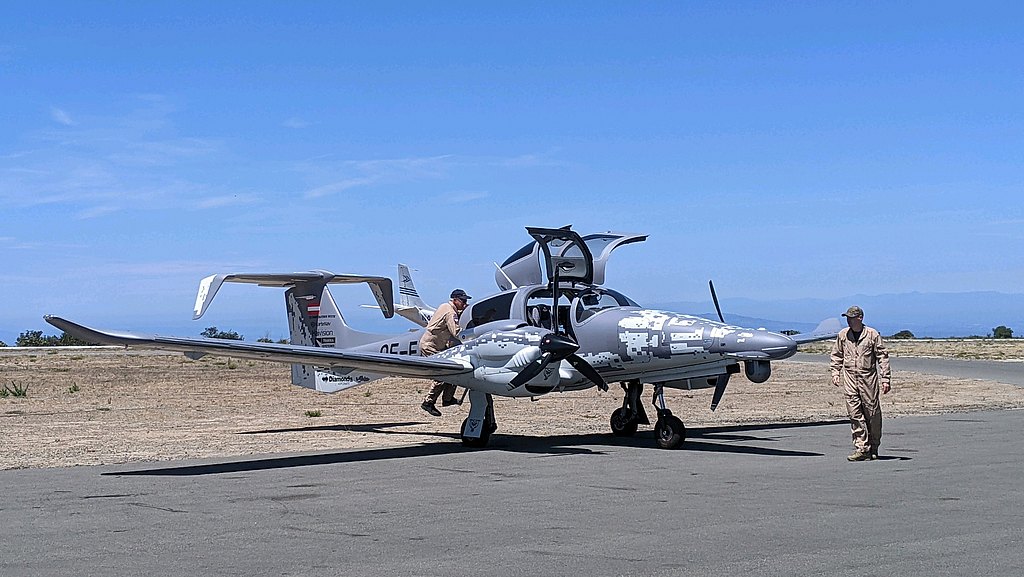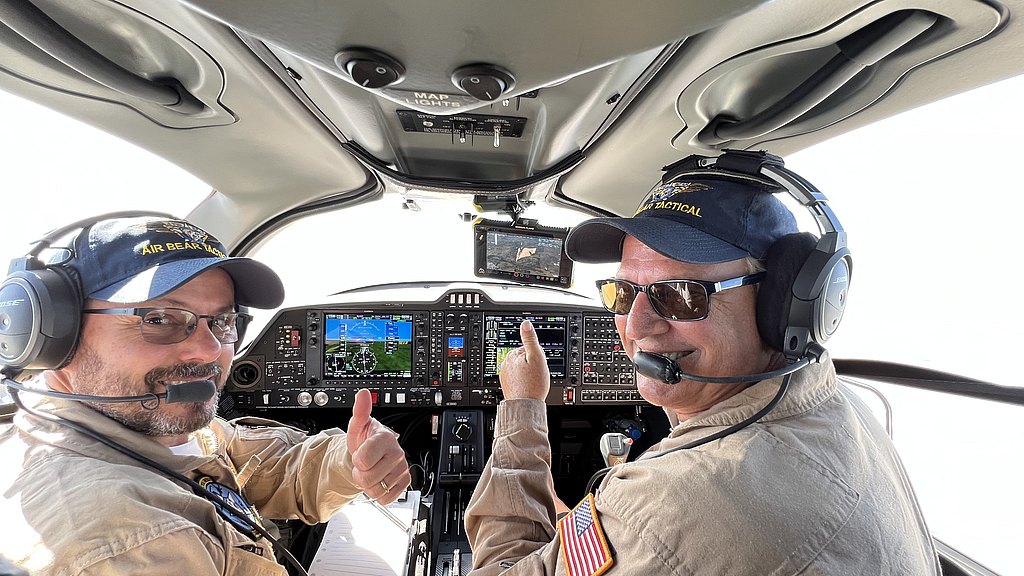 Ready to embark on the remaining 1/3 of the scheduled tour, several demonstrations will be conducted in Florida, Georgia, Virginia and Ohio. This will be followed by wrapping up the tour with a demonstration to major agency in Canada, following which Air Bear will sadly say goodbye to this excellent aircraft.
It should be noted that despite heavy demonstration and ferry usage, we have not had one squawk with the aircraft. Well built and solid, it will be an excellent ISR/Aerial applications platform now and into the future. It should also be noted that our demonstration bird is for sale. If interested, contact Air Bear here.
Air Bear is quite pleased to be the DAI United States representative of the DA62 MPP. Response we've received has been (very understated) gratifying and we will be busy taking orders, delivering aircraft, training flight crews and supporting our customers on into the future. If you're considering bringing a DA62 MPP into your fleet, now would be a very good time to get a deposit in to hold a delivery position. We expect to keep Diamond's MPP production line very busy.
To learn more about the DA62 MPP in USA operations, please contact Air Bear here.
Disclaimer: The views and opinions expressed in this article are those of the author(s) and do not necessarily reflect those of the Diamond Aircraft Group and its employees. The Diamond Aircraft Group is not responsible and does not verify for accuracy of any of the information contained in the article. A liability or guarantee for the topicality, correctness and/or completeness of the provided information and data is excluded. Diamond Aircraft Group is not liable for direct or indirect damages resulting from the use of the information or data found on this website/ blog. There are no rights and obligations between Diamond Aircraft Group on the one hand and the user of the website or third parties on the other hand. This declaration applies to all links on this website.