About Thomas
Thomas was born in Heidelberg in the south-west of Germany. A beautiful university town, at the picturesque river Neckar surrounded by hilly forests. As with most pilots he grew up with an aviator in his life. His dad was a passionate flyer and took little Thomas up in the sky whenever it was possible. So, the decision 'What am I going to study?' was an easy one for Thomas. It had to be Aerospace Engineering at the University of Stuttgart. During his studies he decided to start his pilot training during an extended stay in Florida where he received his Private Pilot License in 1998. After having graduated from the university in 2001, Thomas started his first job as a Flight Test Engineer at Dornier Aircraft, a former German aircraft manufacturer founded by Claude Dornier in 1914 and located in Oberpfaffenhofen near Munich, where Dornier developed and built many aircraft in later years. Unfortunately, his career there ended faster than expected because of the insolvency of the company in 2002. He then landed a job as a Flight Test Engineer at DLR, the research center for aeronautics and space of the Federal Republic of Germany. It was during his time at DLR he got to know Diamond Aircraft better. While on vacation in the US in 2007, a visit of the world's biggest GA show, the EAA AirVenture, was a must for the aviation enthusiast. This was the year of the introduction of the DA50 Super Star to the North American market at the show. If Thomas had only knew at that time…
Shortly before that he got to know one of Diamond Aircraft's flight test pilots at the National Test Pilot School (NTPS), the only civilian test pilot school in the United States, located in Mojave, California. About one to two years later, when Thomas wanted to change his career, Diamond was his first thought and he sent a speculative application. Why? "I am rather playing a big part in a small company, than a small part in a big company," he says. And he is a huge fan of small aircraft. Thomas was lucky and got employed as a Flight Test Engineer at Diamond in 2008. And that's where his Diamond story begins.
Thomas has a flight track record of about 2,500 hours, of which 500 hours he has flown as a Flight Test Pilot.
What was your first flight as a pilot?
I remember very well. It was a round trip in Florida after having finished my pilot training. And it was also the first flight, to which I finally could take my father with after he has been doing this with me for so many years.
What's your most memorable flight?
That's definitely my first flight in the then DA50-V to Zhuhai Airshow in China in 2018. For me, it was the first time flying the DA50 outside of Europe and the first time flying in China. Thinking of it still gives me the chills.
How many airplane types have you flown?
My experience is mainly with light aircraft. All the ones you know - Cessna, Piper, Cirrus, but also helicopters. And of course, Diamond aircraft. I have flown all Diamond types, except the DART.
How many times have you crossed the pond and with which type of aircraft?
I have crossed the pond already several times. 18 times via the North Atlantic route and one time via the South Atlantic route in 2015. All the times in twin engine Diamond aircraft, the DA62 and the DA42. So, flying the route in a single engine aircraft was a first to me.
Did the ferry flight with the brand-new DA50 RG differ from the ones you did before?
With a single engine airplane, you may choose a bit of a different route for stopovers. You pay more attention to the engine instruments and weather forecasts and observations play a bigger role. Besides that, there is not much difference. When it comes to crossing the Atlantic in a single engine piston aircraft, I would say, nothing beats the DA50 RG. With the reliable 300 HP Continental CD-300 engine, you will have no trouble sourcing Jet-A1 fuel in all parts of the world. The G1000 NXi with GFC700 autopilot make even the most challenging instrument approaches easy to handle. The North Atlantic is often rife with clouds, icing and headwinds on a westward flight. The built-in icing protection system together with the fuel-efficient engine, ensure smooth handling of the DA50 RG in these conditions.
Why did you want to fly the DA50 RG across the North Atlantic?
For me it was personal commitment to the DA50 RG project. Our Head of Design Organization has asked me if I would be willing to do this flight. Based on my experience with the DA50 on the one hand and on the other hand with flying across the North Atlantic, I was immediately on board.
Were you aware of this historic milestone as such or was it a ferry flight like any other for you?
Well, before and during the flight, the objective was to plan and execute a safe flight. This made it more of a ferry flight like any other. My focus was on safe execution. In quiet moments, I was well aware of the significance. So, I can say that I was a bit proud that I had been assigned the task of carrying out this flight. All this culminated in the warm reception in London, Ontario. The entire staff was there. A shift has just ended, and everyone wanted to welcome the new aircraft and have a closer look at it. That was a very emotional moment.
How do you prepare for such a trip? Which equipment did you bring on the ferry flight?
There are so many things to consider. In general, you are examining the general weather situation, set the flight path and fuel stops, get in contact with the airports and/or FBOs, check the aircraft's paperwork, obtain overflight permission for Canada and now also gather information about Corona measures in each country as well as getting Corona quarantine exemptions as Flight Crew where necessary. Equipment wise I packed a survival suit, life raft, life jacket, EPIRB (emergency position-indicating radio beacon), food, water, watertight packed flares, and oxygen for high altitude flying. This is by no means a complete checklist, but some of the most important things to consider.
Was there anything special to take care of – in general and in particular with a brand-new aircraft?
Yes, for example the clearances and procedures in the Oceanic Airspace. Considered international airspace, this is the airspace over the oceans of the world. Whether flying private or not, oceanic airspace is subject to ICAO (International Civil Aviation Organization) procedures and regulations. On some routes, you are outside of VHF communication, while the airlines, that are flying higher, either still have VHF radio coverage, or use HF radio to communicate. That also dictated the chosen route further north over Greenland: continuous VHF radio coverage and less water distance. Icing conditions, which are prevalent over the North Atlantic, are mostly found at low to medium altitudes, where small airplanes usually fly, whereas the airlines fly above most of the weather. Most of the flight inside Oceanic Airspace is also outside radar coverage, so the clearance not only consists of a cleared altitude, but also clears speed – mach number or true airspeed. This speed is part of the clearance and must be strictly kept. Part of this procedure are regular position reports, that follow a strict format that include estimates for the next waypoint and operational report. This is how ATC manages separation outside of radar coverage. Any change in speed, as well as change in altitude must be cleared with ATC. With the DA50 RG in particular, we did an extended flight program before the ferry flight.
Do you have any advice for pilots considering flying across the North Atlantic?
What I did and what I would definitely recommend everyone who wants to do such a trip, before flying alone, fly with a pilot who has transatlantic experience. There are so many details and information, that you can only gain by having done this trip. For example, communications with ATC in the Oceanic Airspace. Usually the person you are talking with from ATC is also the one taking care of air traffic control. In the Oceanic Airspace, the one you talk to is the radio operator and the one who does the air traffic control doesn't talk to you at all. He is sitting in another room or country. The radio operator is relaying to ATC and vice versa. This is something completely different from everything a private pilot is used to.
What was the most challenging and on the other hand the best part of this journey?
The most challenging part of the flight was the best at the same time. Approaching Vágar on the Faroe Islands requires quite some attention. Many times, the weather doesn't allow for a landing. Often the fog is covering the mountainous landscape. A pilot always needs to check weather forecasts closely and continuously. But approaching Vágar is always something special. The scenery is almost unreal. A windswept barren country and yet so incredibly stunning. The famous waterfall approach is something extraordinary. Flying low over the sea with a waterfall in sight. I've done this several times and still the beauty takes my breath away. This leaves no pilot untouched.
You were the first who flew a DA50 RG across the pond. Did you actually feel a bit like the Wright Brothers at any time?
Not really. During their first flight the Wright Brothers always had the landing field underneath them. I didn't have that over the Atlantic (laughs). Joking aside, neither was I the first to fly the DA50, nor was I the first to fly a single engine aircraft across the Atlantic. But I am proud that I was part of this monumental milestone for the DA50 RG program and Diamond Aircraft.
How did people react to the DA50 RG at airport stopovers?
Wow, amazing aircraft. Is it a new one? The airplane looks sleek. 300 HP? Nice… These are just a few of the compliments, I've heard during the ferry. The unanimous opinion was – what a beautiful aircraft. Such a sleek and elegant shape and what a great livery. Some people were very impressed that Diamond Aircraft is flying such a new aircraft type from Austria to Canada. And many photos were taken (smiles).
If you had to describe the DA50 RG to someone who hasn't seen or flown it yet, what would you say? And what makes this aircraft special to you?
Visualize an incredibly spacious single piston with a diesel engine and that is foolproof to operate. Be prepared for super easy approaches thanks to the modern Garmin G1000 NXi avionics. Imagine incredible views in your super comfortable seat. For people who know the DA62 – it's just like a single engine DA62. What makes the DA50 RG special to me? 2007 I've seen her in the Super Star version at EAA AirVenture and was impressed as a still young flight test engineer. Not knowing that it would once be me who would fly this beauty across the North Atlantic as the first one.
What are your day-to-day responsibilities at Diamond Aircraft and what do you like about working for the company?
In my job as a chief flight test engineer I am responsible for test planning, planning of the aircraft including configuration, analyses of the tests and writing reports. As a test pilot, of course performing test flights and evaluation of flight characteristics.
Take the icing campaign in Sweden with the DA50 for example. The task was to find the right icing conditions to demonstrate that the DA50 is capable to fly in icing conditions with the optional ice protection system. As the weather warmed up here in Austria, we had to look elsewhere. So, I had to find a suitable location by studying weather forecast charts, talking to weather forecast specialists in the national meteorological office and to climatologists. Based on that information, I decided on Kiruna in the northern part of Sweden. Kiruna Airport also regularly hosts research and development projects from all over the world looking for flights in the artic north of Europe. In the next step we had to get everything ready for the operation there, for example organize TKS fluid in Kiruna, flight planning to and from Kiruna, including overnight stops, check Corona and entry requirements, airport opening hours, fuel availability, book accommodation and rental car, arrange for hangar and office space, including airport access, and so on. Prior to each test flight, a detailed weather briefing was done to check for the most likely icing conditions. Then the flight plan was filed. During the flight, we were constantly on the lookout for potential icing, aided by ATC - who often were baffled by our request to deliberately fly into icing, rather than avoiding it. A lot of photos and video were recorded for documentation of the icing on the aircraft, and the effectiveness of the ice protection system. At the end a report had to be written for the aviation authorities. It really is a very interesting and fulfilling job.
What is your greatest achievement at Diamond Aircraft?
Qualifying as a test pilot with Diamond Aircraft as a personal achievement. As an occupational achievement, I am proud to have led the flight test effort for certifying the DA42, DA62 and DA50 for flight in known icing. With the DA50 as the project test pilot.
Do you have an aviation hero?
Yes, I do. Kelly Johnson. I'm sure many of you know him. He was an American aeronautical and systems engineer working for Lockheed. He contributed to so many aircraft designs, best known for the U-2 and SR-71. Both are high altitude aircraft, perfectly designed and capable of doing things that were not possible before. His way of working and the innovations he came up with were ahead of these times. Truly inspiring.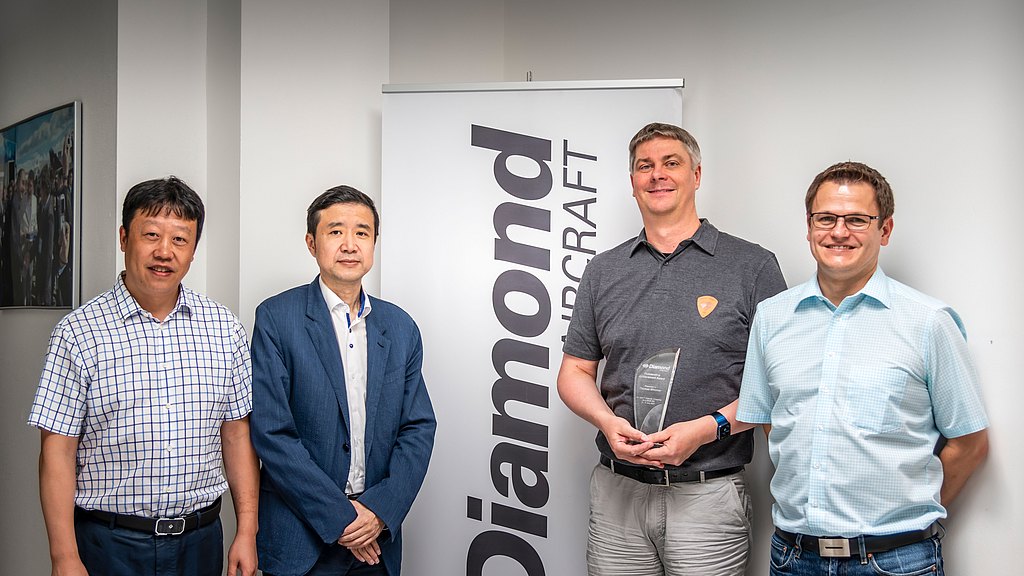 Thomas' Top-5 Choices
What's your favorite flying destination?
Longyearbyen in Spitsbergen. It's really something special. The scenic landscape is breathtaking. Hardly any private pilot gets there. At the airport you can only get jet fuel. This excludes many small aircraft, but with a Diamond aircraft it is just easy. I flew there in a DA42. Longyearbyen is the world's northernmost airport 78 degrees North. The approach is very challenging as GPS reception is no longer ensured.
What's your favorite airport?
I love Vágar, Faroe Islands. I've already told you why. Just check out the 'Waterfall Approach'. It's like in a fairytale.
What's your favorite Diamond aircraft?
That's the DA42-VI. She is such an easy to fly twin engine aircraft, agile and beautiful as well. It's the aircraft type I have flown the most and therefore has grown on me.
What's the best piece of flying advice given to you?
During my flight training one instructor once told me 'Fly as if everyone is out to kill you.' Your safety is in your own hands. Just like with driving a car. There you would call it defensive driving.
What's the one thing you always pack for every flight?
An iPad for watching movies and some snacks and water.
Looking for a new job?
We are hiring! Take off and join the Diamond Aircraft Family. Browse our current career opportunities and apply today for your new dream job.