Year End Words by our CEO

Liqun (Frank) Zhang, CEO Diamond Aircraft Austria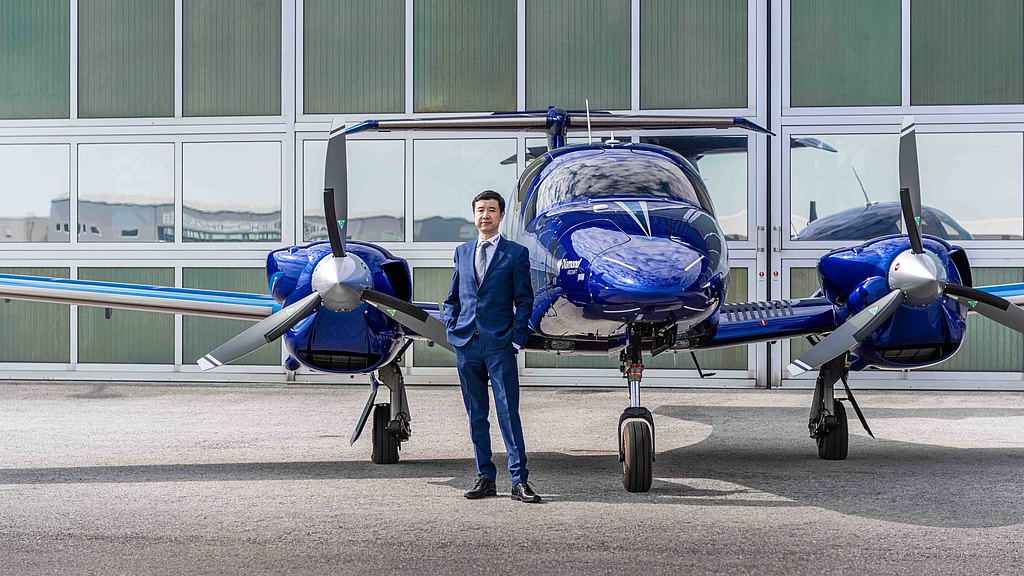 I would like to thank all Diamond Aircraft and Austro Engine employees for your dedication, your support and your contribution! Special thanks to all our customers and partners for your faithful cooperation and trust! In the past two years, we all were challenged by this pandemic; not just at work but also in our personal lives. Therefore, I am thankful that despite all these challenges, we kept and keep working together on our common success. I am looking forward to continuing our journey 2022!
Major News, Milestones & Events

Starting the year with a product introduction
2021 started with a new addition to our Special Mission Aircraft portfolio – the DA62 SurveyStar! A groundbreaking solution for the survey market.
One of the biggest orders in Diamond history
And the year continued great with one of the biggest orders in Diamond history. With Blue Line Aviation we inked a firm order for 50 Diamond Aircraft, including single engine DA40 NG's, twin engine DA42-VI's and a Diamond Simulator, with an option for up to 50 additional aircraft.
The DA50 RG wins them all!
We are simply overwhelmed by the number of awards our DA50 RG has received so far. Well, we know she's an absolute winner 😊 2021 we were honored with the IF Design Award, the Aerokurier Innovation Award and the Fliegermagazin Award.
The DA50 RG crossed the Pond & said "Hello America"…
The crossing of the North Atlantic with our DA50 RG marked a monumental milestone for the DA50 RG program and for the company. Thomas Wimmer, the pilot, gave us exciting insights on this historic ferry flight. And we all celebrated the US debut of our beauty at EAA AirVenture.
…and made its debut in China
And if this wasn't already a lot to celebrate, we marked another huge milestone for the DA50 RG program with another long distance flight. This time she flew all the way from Austria to China to make her debut at China Airshow.
News on the Simulator side
Ongoing challenges due to the pandemic led to development of an environment for live remote installations of our simulators that is offered to Diamond customers worldwide. And we responded to the increased need of flight schools for Multi Crew Coordination (MCC) training and have developed an MCC add-on for its latest DA42-VI flight simulator.
Electrifying Flying!
Uh, it's electrifying… We are extremely thrilled about our latest development announcement. With the all-electric eDA40 we will offer a great circuit trainer option to the market - a sustainable solution for the General Aviation of tomorrow.
Do you already know about the Diamond Smart Aircraft Experience?
We have joined forces with Evionica to offer you a true 21st century training service improvement and another enhancement for our complete flight training solution. The Diamond Smart Aircraft Experience is an all-in-one, scalable and comprehensive computer-based training program.
Many, many new Diamond Aircraft in the sky
It's been a great year with many Diamonds sold, lots of great new customers and further sales to awesome existing clients including one of the biggest orders in Diamond's history and the first DA50 RGs delivered to its happy new owners. And we are looking forward to a strong and busy year 2022 with our order books already fully booked.
And a photo contest
Give us your best shot! We called for your finest Diamond photos to get featured in our beloved calendar. Many followed, but only one could be the winner. Grab your Diamond calendar now.
Season's Greetings

Happy Holidays
The entire team at Diamond Aircraft wishes you Happy Holidays and a wonderful New Year! Thank you for giving us the chance to do what we enjoy. At Diamond Austria, we are taking some time off due to the festive season and will return on 3 January. Diamond Canada is open except for the holidays on 24, 25 and 31 December as well on 1 January.